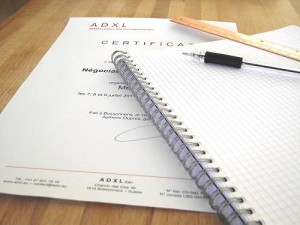 Training is one of the best ways to build an efficient team spirit within your purchasing organisation.
To increase general awareness of what is at stake upstream your organisation.
To involve every stakeholder in obtaining the best of your external resources : BU managers, production, R&D, quality, business development, executive members.
Purchasing performance means to constantly obtain more* from your suppliers. Your achievements will depend on the quality of your purchasing resources.
Can overloaded buyers exploit all of your upstream supplier market potential ?
Your buyers face intensively trained salesmen. Don't they need to master the most efficient tools, know-how and best practices ?
Your buyers bear growing responsibilities in a complex international environment. They need solid business reflexes and strong logistics, contractual, law and finance skills.
Your buyers are a link between many (both internal and external) stakeholders. Excellent soft skills are a must : communication, negotiation, motivation, management.
To help you shape your efforts, ADXL created the following training courses:
These training sessions include formal presentations an hands-on workshops based on your real business cases, therefore tailored to your needs. Typical seminars gather 10 to 12 attendants for a three-days session.
For high-level managers, ADXL will design a fully personalised training course. For more specific issues requiring tailor-made services, we will assist you through coaching.
Working languages: English, French or German.